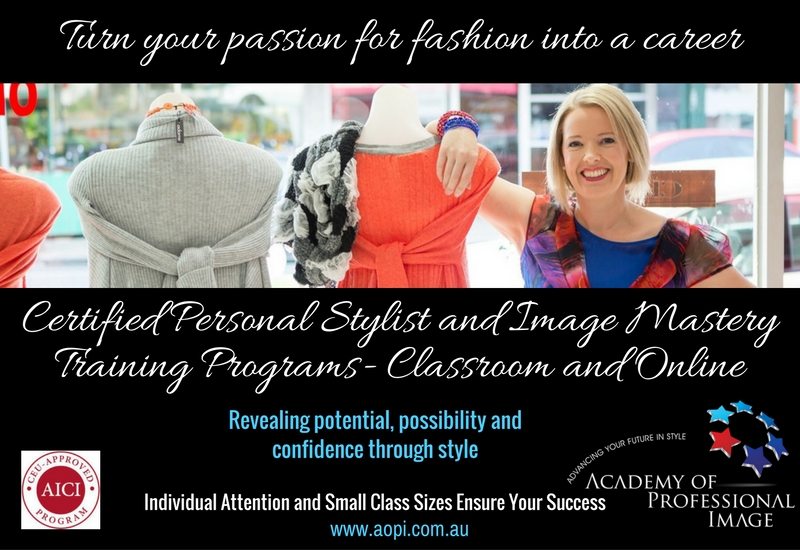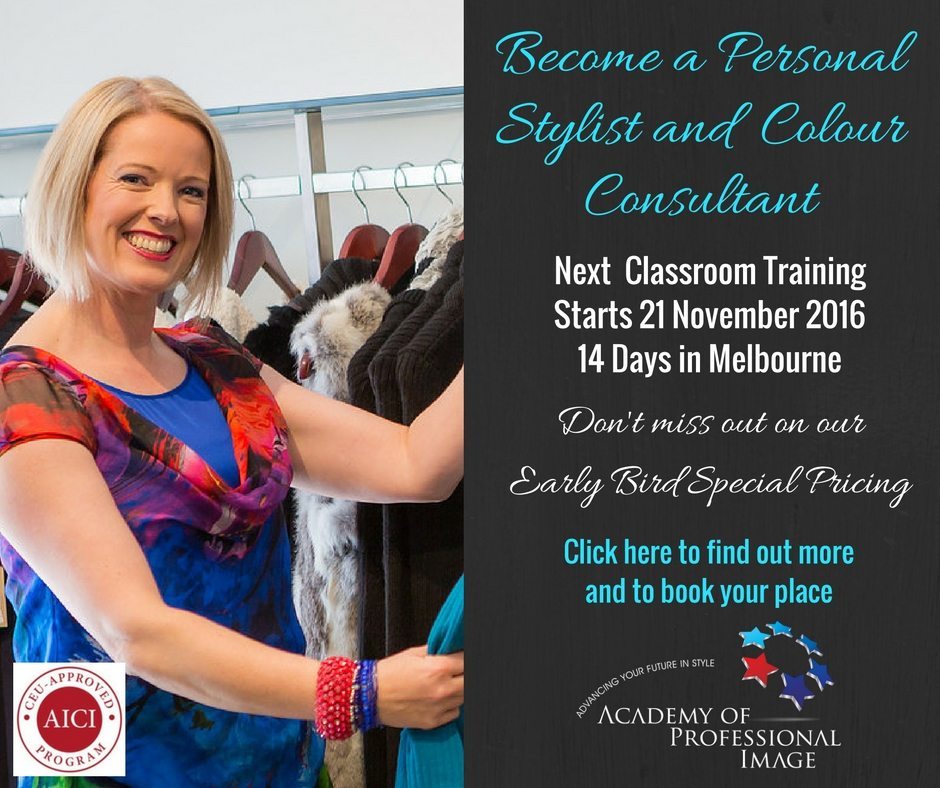 Are you interested in becoming an image consultant or personal stylist? If you enjoy helping people look and feel great, are not colour blind, and enjoy clothes then this could be the career for you. It has great flexibility and there are many options of where you can take your skills.
Our courses are internationally certified and approved by the AICI (Association of Image Consultants International) for 7.2CEUs.
Imogen Lamport provides Personal Styling (Image Consultant) plus Personal Colour Analysis Training Courses in Australia through her 
Academy of Professional Image
. These courses can be done online,  or in the classroom in Melbourne.
The training style is very experiential, practical and hands on, rather than just sitting in a classroom listening to the teacher. You will be expected to work through many exercises in a workbook, as well as practical exercises in every section of the course, from personal shopping through to draping clients for colour analysis and applying makeup.
2016  Image and Colour Consultant Training Schedule
Full time Professional Image Consultant Training
November 2016 – Melbourne
Advanced Certified Personal Colour Analysis training – 21-26th November 2016
Certified Personal Stylist and Image Mastery for Men and Women – 28th November – 5th December 2016 (no training Sunday)
Image Business Development – 6th December 2016
(Please refer to AICI Certification Disclaimer at the bottom of this page)
All courses run 9.30am – 5pm each day
Practical Training for Distance Learning Students
Please contact us for details and dates and to register your interest.
I completed the full Image Consultant Training course with Imogen Lamport in January of 2012.  I found Imogen to be extremely professional, committed and enthusiastic and to possess a wealth of knowledge in all matters related to fashion styling and personal image.
 The course modules on colour analysis, body shape and style, wardrobe, personal shopping and business planning were invaluable and prepared me extremely well for starting up my own business. The resources provided as part of the training were comprehensive and all material had been designed and written by Imogen for training purposes.  The course was exceptionally well planned and structured and the content allowed for delivery of theory, practical experience, interaction, discussion and site visits.  Imogen's verbal and written communication skills were outstanding and she facilitated a learning environment that was informative, friendly, helpful and encouraging.  I was also extremely impressed by Imogen's expertise and experience and her willingness to share this with her trainees.  Imogen's approach to training was to offer the most outstanding service possible and she continued to make herself available for ongoing advice, direction and suggestions after the formal training period had concluded. 
 I found Imogen to be unsurpassed in her role as a trainer, educator and mentor and I would recommend her in the highest possible terms to anyone seeking to obtain a thorough foundation of knowledge and skills in the image consulting field.  Arena Nilsson