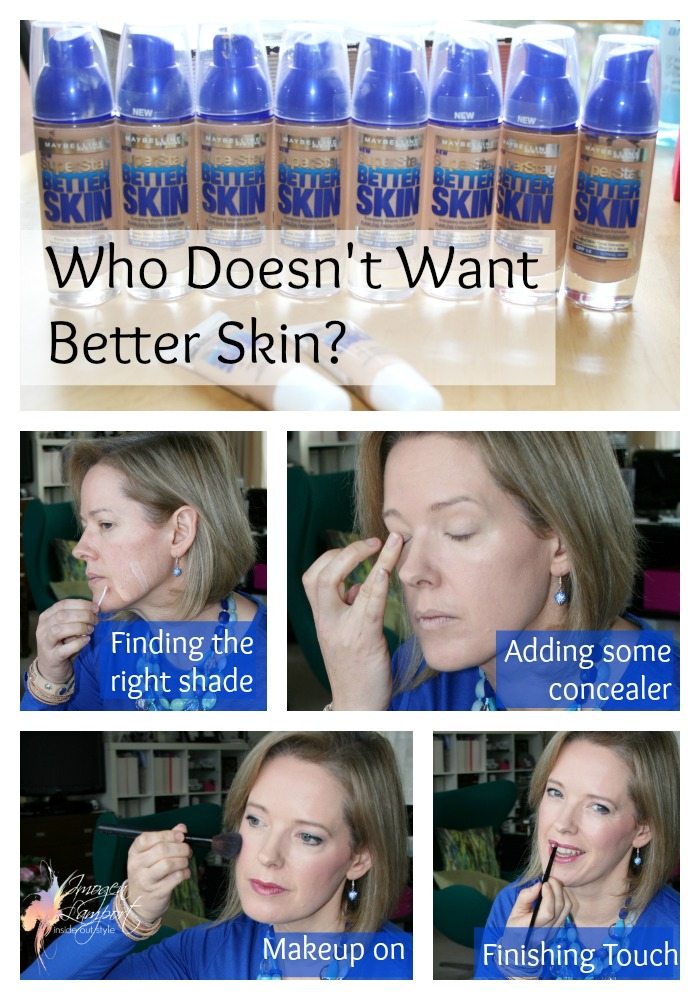 Sponsored by Nuffnang and Maybelline
I've been asked to try out the new Maybelline SuperStay Better Skin Foundation (rrp$21.95) and Concealer ($14.95). It's a new formula that is enriched with ACTYLE C, which is a vitamin derivative that helps the skin look fresh, healthy and radiant, promotes skin regeneration and starts to even discolouration in as little as 3 weeks.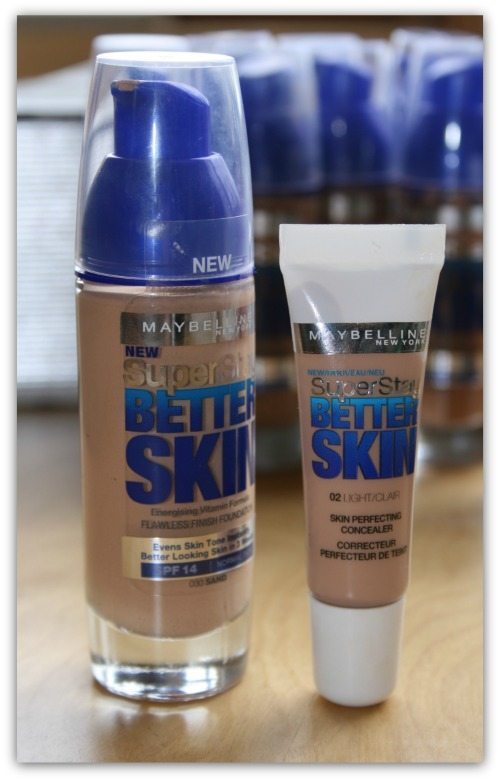 Now, I really hope that it works, but what I also really care about is that my makeup stays on all day. I'm the kind of gal who gets up and groomed and never looks back into the mirror (apart from the rear-view one in the car, and then I'm concentrating on the road behind me). I may refresh my lipstick throughout the day, but nothing else. So I was keen to see if this really has the super staying power that I'm looking for in a foundation.
So I'm taking some photos to show you my start and end of the day so we can all see if it lives up to its promises.
Now one of my issues is that I have shiny skin. Not sure if that's the reason why in my mid-40s I still get a pimple or two, but it sure is shiny, and I find that shine breaks through everything, no matter how much I powder. So I've learned to live with it and know that I need to match it and harmonise my other makeup with it so I wear eye shadow and lipstick that has some sheen. Otherwise, if I wear matte makeup all you notice is my shiny face. I like to think of it as my "youthful glow".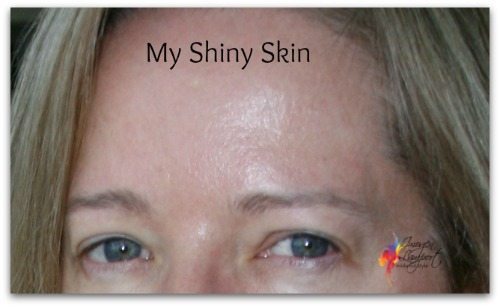 Here I took a picture of it so you can see my shiny skin without makeup. Nice, isn't it!
For this trial I've decided not to wear any sort of primer or add any powder after the foundation, I want to see just how well it stays on and how much I shine through!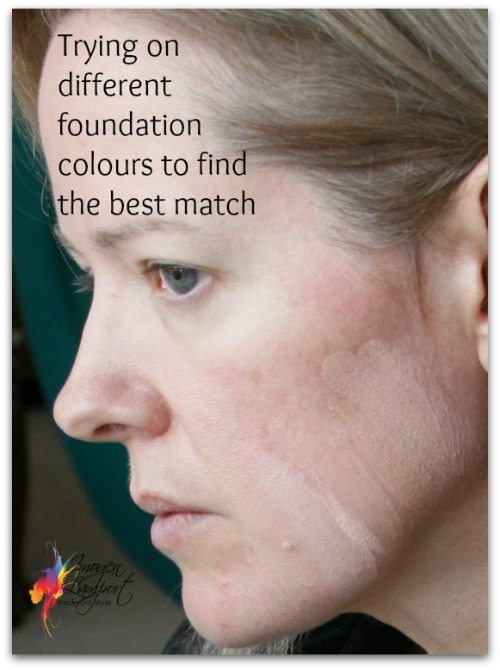 The foundation comes in a pump pack which delivers a nice size dose, so you don't end up wasting lots and I found that it blended easily and smoothly as I applied it. To choose the best colour I tried out all the colours to find the most suitable for me, and I recommend you do the same when you try it. Go in to the store and try on all the shades (except for the really dark or light, if you're not at the extreme ends of the spectrum), then go outside with a mirror, into daylight (store lighting will always make a foundation look a different colour), and find the two colours that seem to blend the best with your skin. I need something that isn't quite as light as my neck or I look completely washed out, but not too dark or my face looks an odd colour as compared to my neck and chest. Once I've found the two best shades, I like to wipe off my 'go faster stripes' and then try covering each side of my face with one of the two best, so I can see when it's on if I look too pink or orange or something that isn't related to my skin before I make my final choice. I found that "Sand" was the best shade for me.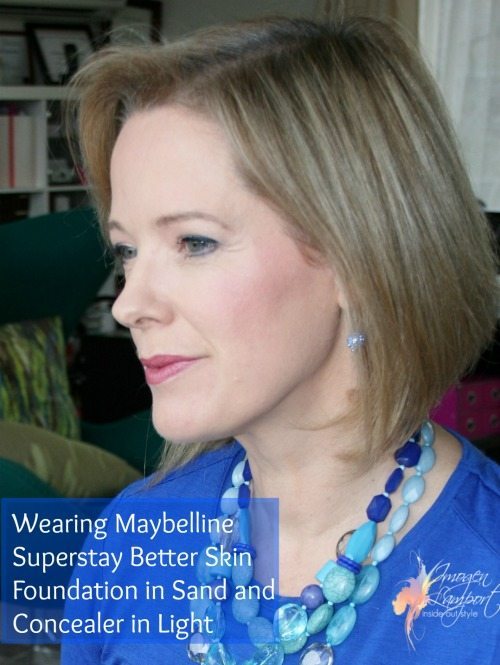 What you can see is that the Maybelline SuperStay Better Skin Foundation does have a mattifying ingredient, which is great for people like me. It really has good coverage and it doesn't feel at all heavy.
Now, how did it stay on you ask?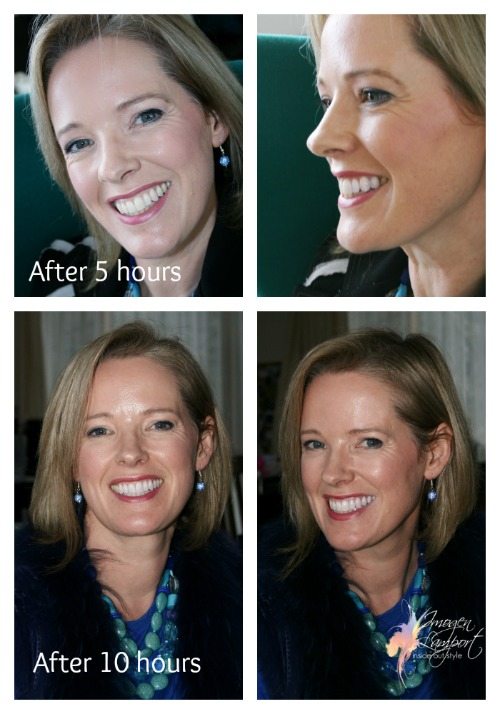 Here I am again at lunchtime – 5 hours after I applied the foundation, a slight sheen, but really looking good, and again at 10 hours after application, a bit more sheen (and the camera flash makes it more obvious), but I can tell you, in person the foundation is still giving me great coverage and my skin still has a very even appearance. Remember I didn't put any powder over the top as I normally would to set the foundation!
And another 4 hours later as I was removing my makeup before bed it was still looking good. Given that I have the kind of skin that makeup often slides off, I'm impressed with the staying power of this Maybelline SuperStay Better Skin Foundation. It certainly does make me look like I have better skin and I hope as I continue to use it that my skin texture improves too.
Win a prize pack from Maybelline prize pack of a $100 Priceline Gift Voucher
Just answer this question: What benefits of the Maybelline SuperStay Better Skin Foundation most appeal to you and why?
You can find out more about Maybelline SuperStay Better Skin Foundation and what others are thinking about it over at the Beauty Heaven Trial Teams website or visit the Maybelline Facebook Page.
Competition open to Australian residents only. Competition closes 5pm Friday 12 September (AEST) Winner will be notified by email.