Sponsored by Nuffnang
Do you shop online or overseas? The fantastic thing about online shopping is that choice is so much greater than what you may find locally. But one of the issues has been all those pesky international transaction fees on purchases and currency conversion fees. Fortunately GE Money have a credit card called28 Degrees MasterCard which removes these issues.
One of the biggest online shopping days of the year is Cyber Monday, the Monday following the North American holiday of Thanksgiving (this year it's on December 2, US time) as North American online retailers offer lots of discounts on this day. Right now's a great time to start planning your Christmas shopping, and take advantage of those discounts on Cyber Monday.
One of my favourite things about online shopping is that you can avoid all the hassles of finding a car park and you can browse for those lovely gifts for your friends and family from the comfort of your computer, plus have them delivered to your door, or to the door of the recipient of the gift (particularly useful when you have friends and family living in different parts of the world to you).
I've started to compile a list of present ideas for my friends and family for Christmas this year.
Here are some of the pieces I'd be choosing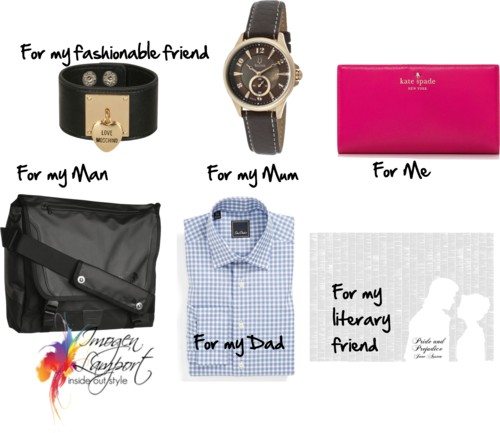 The North Face mesh messenger bag
120 AUD – zappos.com

Kate spade bag
135 AUD – katespade.com

Bulova water resistant watch
92 AUD – bluefly.com

Love Moschino black leather bracelet
125 AUD – allsole.com

David Donahue Regular Fit Dress Shirt
145 AUD – nordstrom.com

Spineless Classics wall poster
78 AUD – amara.com
A gorgeous, fun cuff bracelet for my fashionable friend.
A watch with big, easy to read numbers and face for my Mum as her eyesight is deteriorating with age.
A hot pink wallet (my happy colour, and easy to find in the bottom of your handbag) for me
A messenger bag for my man (so I can throw out that rucksack)
My Dad loves a collared shirt in a check or stripe, the blue in this one matches his blue eyes.
A Spineless Classic print of the classic Jane Austen novel Pride and Prejudice for my book loving friend. Did you know, that the entire novel is printed in readable font (ok, you need some glasses to read it) on this poster?
So if you want to get organised for Christmas this year, take advantage of the fabulous prices you can get online on Cyber Monday and to avoid international transaction fees on purchases check out the 28 Degrees MasterCard.
Now it's you're turn to receive a gift:
What is fabulously exciting is that you can win your choice of one of the gifts I've chosen in the picture above (up to the value of $200 including delivery). Just answer these question in the comments.
Are you an online shopper?
Have any horror stories or been stung by currency conversion fees?
Share your stories in the comments for a chance to win!
Terms and Conditions
Competition open to Australian residents only. Competition closes at 5pm AESST on Thursday 21st November.
Full terms and conditions here.
Disclosure:
This blog post has been paid for by 28 Degrees, with limited input. The opinions and views set out in this post are the writer's alone and do not represent the opinions and views of 28 Degrees or GE Capital Finance Australia (ABN 42 008 583 588), trading as GE Money, Australian Credit License Number 392145. Save for the 28 Degrees MasterCard, GE Money is not associated with and does not recommend any of the products, goods or services described. You should determine if the 28 Degrees MasterCard meets your objectives and requirements before applying.