Acai is one of the colours that Pantone have listed as an upcoming colour trend for the next season. It's a softer cooler purple in it's purer form, but all these colour predictions really mean, is that you will start to see a variety of this kind of colour available in store.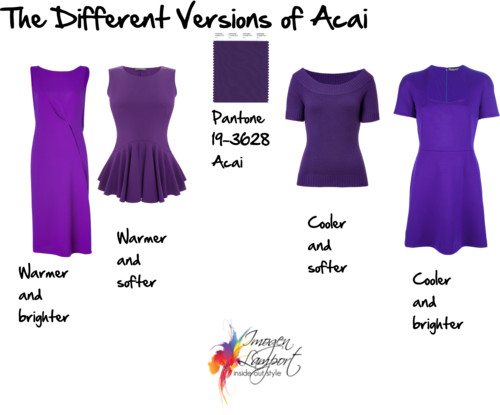 Here you can see versions of Acai that are warmer, cooler, brighter and more subdued. There is a version for everyone.   How do you figure out if a purple is warmer or cooler?
Warmer purples have more red in them
Cooler purples have more blue in them.
Here is an outfit option for the cooler people
And here is are options for the warmer people
Not sure how to mix colours these new colours in? Take a patterned item and work with the colours in it to create a cohesive outfit.
Oh, and just because they are slated for 'fall 2013' in the Northern Hemisphere doesn't mean that in the Southern Hemisphere we won't get them til next year, we will be seeing these colours in our Spring/Summer collections too, as the fabric mills will be dying fabrics to these colours and that's what our manufacturers will be choosing from.