Given my time spent shopping with clients as their personal stylist, I thought I could share some of what I find out there in retail land with you.
If you're a cold person like me, then winter knits are important. I've discovered that the fine merino long sleeve knits from Glassons are great. They last really well, are machine washable, and they bring them out each year in new colours. They tend to be on the slightly larger size, so it's worth trying on a size down from what you'd normally buy. I've got a good range of them now and they are a staple in my wardrobe.
I layer them over each other when it's really cold, or over a Giordano scoop neck cotton/lycra long sleeve t-shirt when it's not so cool.
And from Beyond (in the ether/internet) this week:
If you have either wide or narrow feet or calves then check out the 30% off sale at www.duoboots.com who cater to all sizes and widths.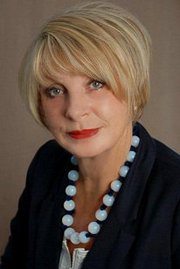 Jan in a Silk and Steel moonstone necklace
The moonstone pendant (pictured above) is from Etsy seller Ethora. I've fallen in love with moonstones after seeing my friend and colleague Jan's beautiful moonstone necklace (it seriously glows) that her daughter made and sells with her other jewellery on her web shop Silk and Steel.