.
.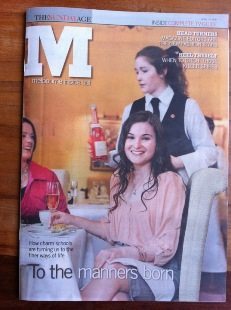 Sunday Age M Magazine That's my nose on the left
Last week I was interviewed by The Sunday Age for a feature that appeared in the M Magazine.  I was asked to find a couple of my clients who would also be happy to be interviewed and have their photo taken for the feature.  Fortunately I have lovely clients who agreed to take part.  Alisha even mentioned to me that only the day before she'd been thinking that she'd like to go and have High Tea at the Windsor (the location of our photo shoot).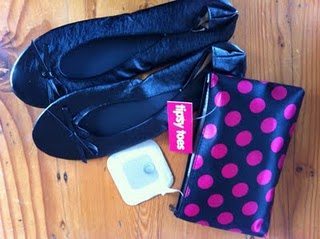 A day or two before I received in the post a pair of Tipsy Toes shoes to try out.  Now I don't spend much time getting out at night to nightclubs anymore, and after having danced the night away, needing something a little more comfortable for my feet to get home in.  But I do like to wear heels, but hate having to walk more than a few meters in them!
Tipsy Toes are a fold up ballet flat that come in a little pouch (that has a mirror attached too).  These are mine in black, but they also come in leopard, silver and white (ideal for the bride).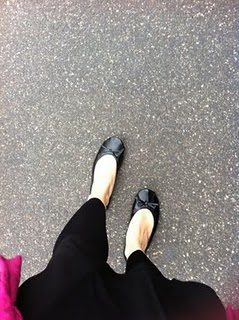 Tipsy Toes
So rather than wear my heels and walk from my car to The Windsor Hotel for High Tea with my clients, and The Age photographer, I tried out my new Tipsy Toes.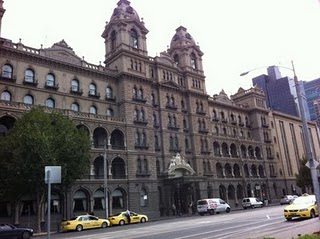 The Windsor Hotel Melbourne
The fit well, didn't slip off (as ballet flats sometimes can) and were comfortable to walk in the 500+ meters or so from where I parked my car.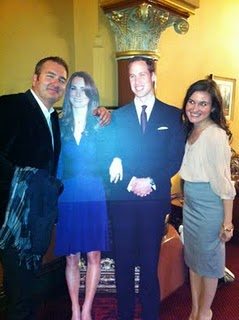 Dave and Alisha with the Royal Couple
To celebrate the Royal Wedding of Kate and William, The Windsor has a cardboard cutout in their foyer which you can have your photo taken with.  So I took a quick snap on my phone of my lovely clients Dave and Alisha who were featured in the story.
I now keep my Tipsy Toes in my handbag, for all those quick dashes I have to make to the supermarket on the way home from work, or just for when I want to wear heels, but discover that I'll be walking a bit further than I like to do in them.  No point in making my bunions any worse than they already are.