Today I'd like to introduce to you Tat of Rate My Outfit. She lives in Surrey, England and shares her thoughts on style.

What is the secret to great style?
Confidence. Wear everything with your shoulders back and a bright smile, and you will be able to pull off whatever you like. You've also not got to be be afraid of standing out in a crowd, or looking different to your colleagues, or other Mum's at the school gate. Dress for yourself, not others.
What is the one thing you would spend a lot of money on?
Personally the only thing I would spend time and money on is finding out what suits you. Whether you hire an image consultant, whether you just read books and look on websites, to me this is the one most important thing – once you know what styles and colours work for you you can search ebay and sales and charity shops, and you don't have to spend a lot of money on clothes, because you know what suits you.
What is the one thing you wouldn't spend a lot of money on?
The latest "trend" – it'll be in fashion for just a moment, and then will be out of date.
What are your top tips for looking stylish when travelling?
Sadly I don't travel enough to have any tops tips! Last year I finally mastered the perfect "beach holiday" capsule wardrobe, and managed 2 weeks with just 5 vest tops, 2 pairs of shorts, 2 beach dresses, 3 bikinis, 3 pairs of shoes, 2 cardigans, 1 pair of trousers, a skirt and a variety of accessories!
What's the secret to looking polished?
Great nails – at the very least make sure your nails are always shaped and clean, and if you wear nail varnish take it off as soon as it gets chipped. I'm also a great believer in keeping your look simple – not over accessorised or to fussy.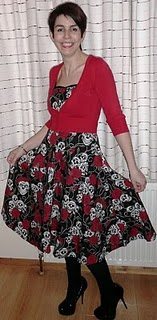 What is your current obsession?
Dresses! I truly believe there is a dress out there for every shaped woman – dresses are so easy to wear, so comfortable, no need to think about what to wear with it. I challenged myself to wear nothing but dresses during December (take a peek at the Dressember pages on Facebook if you're interested!), and it truly converted me.
What's your favourite short cut to style?
A good hair cut. I can't believe how many women seem to have one hair style to last them a life time. A great, modern cut can bring you bang up to date, and really make a difference to how you feel about yourself.
What's the worst current trend?
Harem pants – I'm of the age where they'll forever be "M C Hammer Trousers"!
What are your favourite websites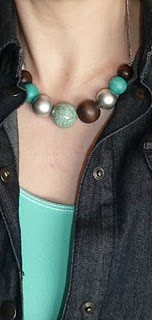 http://www.foreveramber.co.uk/ for a real giggle from a true fashionista
http://sheilaemphemera.blogspot.com/ for a daily fashion blog from a wonderful Canadian lady
and Inside Out Style of course! This site helped me so much in finding out what my body shape was and how best to dress it 🙂
How would you describe your personal style?
I am aiming for stylish, classic with a touch of quirky! And it has to be comfortable!