Hi, I'm Nic from Domestic Sophisticate . I'm based out of Northwest Ohio in the USA. I live in a very small town, so I'm usually very overdressed everywhere I go. But that's ok, because that's my style! Speaking of style, the queen and master of style herself, Imogen, asked me to do a guest post and give you a little overview about my style. I'm thrilled to be asked as I've been a long time reader and admirer of Imogen's blog!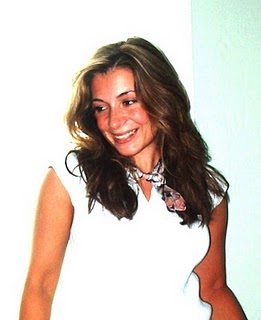 When I first started my little "fashion" blog, it was all about learning fashions trends, and how to wear new looks and find great deals. I've always loved to shop, loved to get dressed up, and loved to be girly. About a year into blogging, I realized how fruitless it was for me to focus on trend, especially when those trends didn't always flatter, nor expressed my own personality! I figured out that style had nothing to do with trend and was all about your personal interpretation of fashion.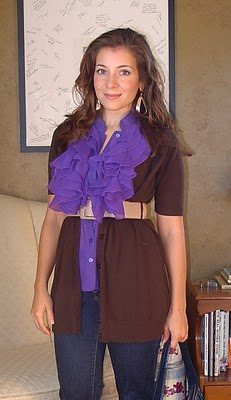 Since that time, I've been experimenting and learning how to develop my own sense of style both in what expresses my personality the best and flatters my figure the best! With the help of amazing people like Imogen and Angie from You Look Fab , and the countless other style blogs out there (The Sartorialist) is another great one to pick up style cues), I'm still learning, but I think I've come a long way. This process has been a lot of fun and has made me more confident in who I am.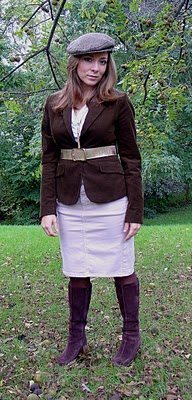 So how would I describe my personal style? Well, a lot like my personality, it can change based on what mood I'm in. Overall I would say I like very ladylike, feminine, sophisticated looks, with a little bit of fun here and there, and I am very conservative. Anything that highlights my small waist, and makes my very short legs look longer sounds good to me too! Of course, right now anything that fits over my baby bump works, as long as I infuse it with some personality plus accessories.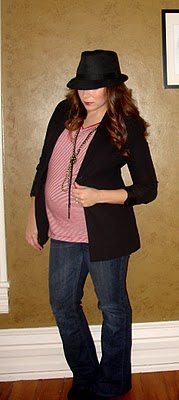 Imogen put together a few questions for me to answer…so here goes:
"What is the secret to great style?"
I would say the number one secret I've found is confidence. Make a decision about what you love and what works for your body and then wear it with confidence and flair no matter what anybody else says or what fashion rules you are breaking.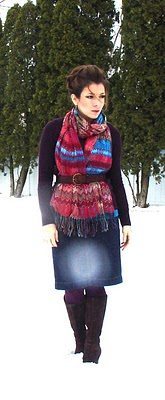 "What is the one thing you would spend a lot of money on?"
I like to invest in leather accessories in timeless shapes. A great all season, all purpose leather bag is a must for me. I also try to always buy leather shoes. Synthetic materials get scratched up easily, don't form to your feet well, and look cheap. I work hard to get these pieces at very low prices, but I'm willing to pay more for leather because it lasts and looks even better as it ages. For instance, the bag I'm wearing in the picture below is an Eddie Bauer bag that is genuine leather. I would have paid $50 for it or more, but I happened to find it at a garage sale for only $.25. Now that's a good deal! On the other hand, the leather boots I'm wearing were on sale at Endless for $169. I usually don't spend that kind of money, but for a classic shaped leather boot – I'd have spent even more!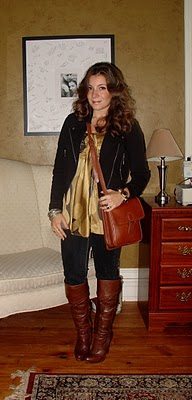 "What is the one thing you wouldn't spend a lot of money on?"
I never spend more than a few dollars on t-shirts or tank tops. These pieces don't wear very well and you need so many of them, too! I also wouldn't spend more than a few dollars on trendy accessories. They only stay in fashion for about one season, so they aren't worth wasting your money on.

 

Like the t-shirt in the picture below was only $3 from Gap, and the trendy clutch was only $6 from JCPenney.

"What's the secret to looking polished?"
I believe that if you take the time to make sure your look makes sense, translates your personality, and is accessorized, then you have achieved a polished look because you are expressing to the rest of the world that you are important enough to take the time to think about what you are wearing and take that one extra step by adding accessories.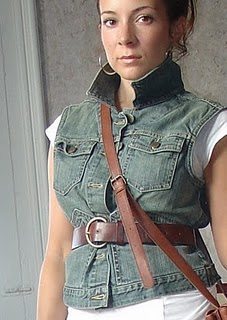 You do! Seriously, I love reading regular daily wear fashion blogs by normal people in all parts of the country that mix thrift finds, diy accessories, high end and low end pieces, that all work together to create a look that's all their own!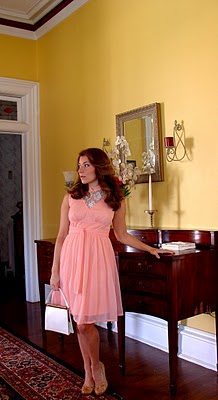 Thanks Imogen for letting me guest post on your blog! I've learned so much from you and am so flattered to be featured here!