.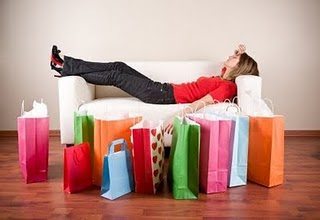 .
This morning listening to the radio I heard mention of a study that showed that shopping helps you live longer. Excited I became (in the words of Yoda), so of course got online to see if I could find the source of the study. It turns out the research is published in the Journal of Epidemilology and Community Health and is a legitimate one. But the results are not quite what the brief mention on the radio news led me to believe.
Turns out, shopping does help you live longer, if you're already old, and we're talking food shopping, not clothes shopping. You can read about the study here if you're interested.
But it did lead me to thinking about shopping and how it can connect us to community (which was one of the benefits described in the study). When I had my first child, and in that first 8 months (before I was diagnosed with having post-natal depression (PND), but suffering from it all the same) I found that even a trip to the supermarket would make my day a little better, that small piece of adult human interaction with the checkout-chick (which I wasn't getting at home with a newborn and little family support) became a life-line for me.
Even now, given that I work for myself (no colleagues to chat to at the 'water cooler') and if I don't have any clients, sometimes I crave adult company (my dogs are not great conversationalists) and I've spent a day or two sitting in front of the computer writing and doing other business related tasks, I end up going stir crazy, and taking myself to the shops, not to buy (at least I can legitimately call it research, find out who is selling what) but for the interaction.
It's made me wonder, how many people end up spending money they can't afford because they need human interaction and shopping gives them some legitimacy to get it?
Do you notice that you tend to shop more when you're in a particular mood or frame of mind? What compels you to go shopping?
If you think you may be suffering from PND, please seek help, there are great organisations out there who want to help you (even if, like me, you just think you need a good nights sleep, or you wouldn't want to bother anyone).
http://www.beyondblue.org.au
http://www.panda.org.au/
http://www.netmums.com/pnd/