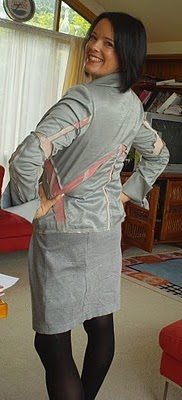 Did they forget to finish sewing up your jacket?
Do you think women wear clothes for themselves? For their menfolk? For other women?
We may all sometimes wear clothes to make our significant other happy, but are we doing this every day? I know that I don't. I know how I dress each day is very dependent on what I'm doing and who I'm seeing, when I have clients, I will try and dress to be stylish, but not threatening or too outlandish (so they don't worry that I'm going to try dress them in some of my more creative styles of clothes, if they are not that way inclined).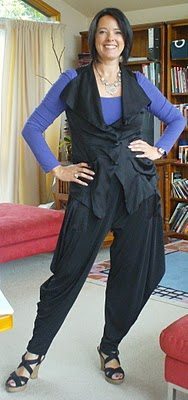 Bring Bring, Hello, yes I'll tell her . "MC Hammer wants his pants back!"
Other times when I don't have to consider others I'll dress purely for me and use my clothes as a creative outlet for expression. These clothes can be ones that I've had comments about (more the negative kind of comment as captioned on each photo), but I continue to wear and love these clothes because I love them and they make me feel good. As an image consultant I feel blessed that people expect me to dress more creatively than they do, so I can let myself have fun with my clothes and accessories.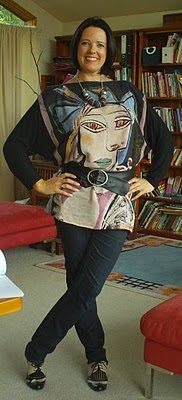 Did Picasso vomit all over your top?
Why do you choose the styles of clothes that you wear? What parts of your personality do you express in the clothes that you love? Do you dress for anyone in particular choosing clothes that aren't really an expression of you but to make someone else happy?
Who influences your clothing choices?