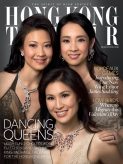 I featured in Hong Kong Tatler magazine January 2011 issue talking about colour.
Sal at Already Pretty did a very useful post on the many uses of fashion tape (double sided tape).
Fashion Me Fabulous has some great round up pictures from New York Fashion Week, to help you make sense of upcoming trends.
Is your life aligned with your signature strengths? We are happiest when we're doing what we enjoy most. What are yours?