I've always loved magazines. I love the glossy paper, the beautiful coloured photos, the headlines that promise some of life's little mysteries will be revealed to me. Ever since I was a teenager and I started buying Dolly magazine I've been a magazine fan. As I moved into my late teens and early 20s I transitioned onto Cleo and Cosmopolitan. As I got older, I realised that getting a magazine subscription to my favourite magazines not only saves me money, but also saves me time as it's delivered to my letterbox each issue. As I've gotten older my tastes and interests have changed, over the years I've subscribed to Madison, Harper's Bazaar, Vogue, Shop til You Drop, Grazia, Notebook and when planning a renovation Australian House and Garden and Inside Out magazines.
When I was a kid I loved to collect the mail, who would send me a letter? I had pen pals who I would correspond with from all over the globe, nowadays we just send emails so the potential of the post containing something exciting is greatly reduced as it's mostly bills and bank statements. So on Thursday when the postman delivered a fresh copy of the November issue of The Australian Women's Weekly in my letterbox there was a frisson of excitement when I brought in the mail, which is one of the reasons I love a magazine subscription.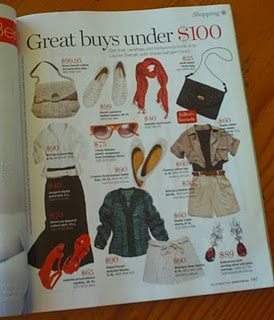 Women's Weekly Fashion
What I like about the Australian Women's Weekly is that it's not aimed at women who have an unlimited clothing budget, instead at women who have families and mortgages. Great buys under $100 is always full of fashionable suggestions that won't break the bank.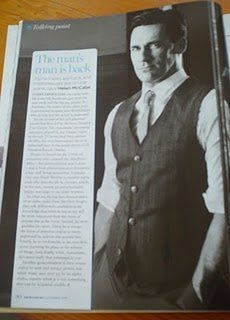 This month there is an article about the Man's Man – the alpha male is back (what caught my eye of course was the picture of gorgeous, dapper Don Draper (aka John Hamm) from Mad Men which accompanied the piece. Apparently Don Draper has been named the most influential man in the world, ahead of President Barack Obama – interesting for a fictional TV character to wield so much power!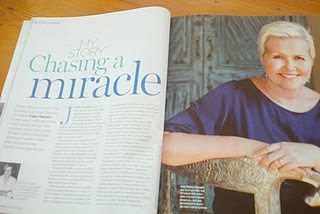 I also eagerly read the article by former Women's Weekly Beauty Director Kate Mahon about her struggle with a brain tumour. My mother died from one when she was only 33 (and I was just 5), so it's a topic close to my heart. Reading about her struggle and her seemingly miraculous recovery was moving and inspirational.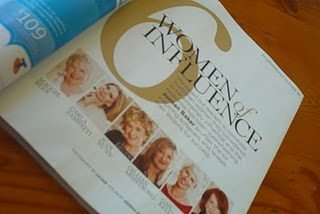 If you prefer your stories more about celebrities, there is one about Portia deGeneres and her struggle with eating disorders, plus you can find out about Australian Cricketer Michael Clark, and Danielle Spencer (wife of Russell Crowe). The article 6 Women of Influence was fascinating as they shared what has made them successful and some of their life lessons from which we can all learn.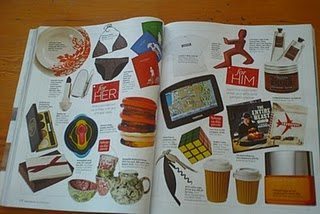 With Christmas fast approaching it was good to get some ideas for presents with the gift guide. Unless I've been keeping a list of present ideas (which is something I try and do, but don't always remember to), also the introduction of ideas and retailers who might have something that would appeal to my loved ones is greatly appreciated and takes a little of the stress of Christmas away. My belief with gifts is that they should be a little luxury item that the giver would like, but wouldn't ever justify spending them money on themselves, rather than something useful that you would have had to get anyway.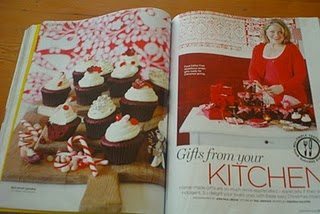 Women's Weekly Recipes
Women's Weekly is also known for its tasty and easy to follow recipes. There were quite a few that I glanced at (will go back later for a more in depth look) that I think I'll be cooking. One for a Buche de Noel that may just become our new Christmas Pudding (it's hot here at Christmas and we're not into Christmas pudding), though there is a recipe in this month's for one if you love them. Plus lots of yummy recipes to cook and give away as gifts such as Snowballs, Red Velvet Cupcakes and a Cranberry and Pistachio Rocky Road (which looks like White Christmas to me).
Magshop makes subscribing easy and fast and I love that I save the cost of at least one or two magazines per year by having a subscription. Plus, as I have one invoice for the year I don't need to keep lots of pesky receipts for my accountant to process (in my business fashion magazines are a legitimate expense).
Yes I love reading blogs, but I find it so much easier to stick a magazine in my handbag so when I'm out and about and have a few spare minutes I have something to read. It keeps me up on fashion trends, where to take my clients shopping and all sorts of other information that I might otherwise not stumble across on the internet without searching.
When I read a magazine I'll keep some tags handy to stick on pages that have something in them I want to refer to later. Then once I've finished the magazine (I start at the beginning and read through that way) I'll tear out the pages that I've stuck tags to. I have files of pages that I've clipped from magazines, sometimes they give me ideas for blog posts, sometimes they have a website that I want to look up, a book I want to read or a shop I want to check out. And the recipe section gets torn out and put into a box that I keep in the kitchen, stuffed full of delicious delicacies to cook up.
Do you have magazine subscriptions? What are your favourite magazines? What parts of the magazine do you spend most of your time reading? Do you clip pages for reference afterwards?