I have a few more tips from some of the image consultants I met in Manila at the AICI Conference to share with you.
Melissa Chor
From Melissa Chor (Singapore):  For Asian hair when you want a sleek sharp look with a bob hairstyle, when travelling and you normally use wax at the end, instead try a little of your moisturiser at the tips (not the roots) before you blow wave.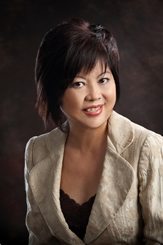 Li Kin Pang
From Li Kin Pang (Singapore):  Use double sided tape to hold up or change the look of your clothes – such as taping up a sleeve, or keeping a collar in place.

Vandita Singh
From Vandita Singh (Singapore): For Indian (or coarse hair) use equal portions of almond oil, coconut oil and castor oil and rub through hair to keep it thick and full.
When swimming to keep hair colour looking good, put on some conditioner and then a swimming cap before getting in the pool to protect your hair from the chlorine.