.
.
Last night the AICI SE Asia conference finished, we had a fabulous gala dinner and fashion parade, which I will share with you when I'm back in Australia and have my regular computer back (I'm working on a netbook so don't have the photo/video editing programs installed).
It's been hard too find a minute to write a blog post, but yesterday at lunch I asked 3 image consulants for one tip to share with you here.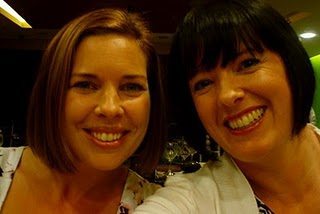 Aileen Lane and me

Aileen Lane
from Singapore, who I met back in 2006 when she came to Melbourne to do her First Level Certification exam when we had our inugural Australian chapter conference had this to share:
Get a great hairstyle, one that works with your hair type that looks great, that you can easily do is really important. If your hair doesn't look great, then you will never look or feel as good as you can.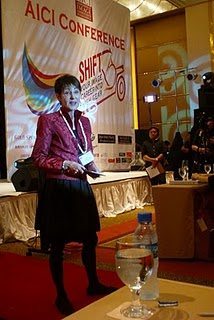 Lynne Marks
Lynne Marks
, who is the current AICI International President recommends that you always use shoe inserts, either the gel inserts to cushion your feet when wearing heels, or Bata leather inserts that soak up sweat and add a layer of comfort to your shoes.
And from local Manila based Image Consultant
Delby Bragais
comes the advice to always add a third piece, so if you're wearing pants and a top, add a jacket or other outer garment. This third piece can be
a hero
piece, or just a piece that makes you feel more comfortable as it covers areas of your body that my bother you, your upper arms, your stomach etc.
What is the one piece of style advice you always adhere to?