.
Sponsored by Nuffnang
Westfield challenged me to experience what it would be like to be the Westfield Insider, a great new job which you can apply for (see details below).
The Challenge
Pick one of the following trends featured in the Love Getting More magazine and style a complete outfit for under $200.
The maxi dress (or skirt)
Nautical
Military
Nude & Pastels
The blazer
The romper
Coloured denim
Techno (digital print) dress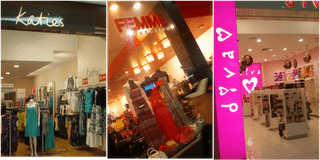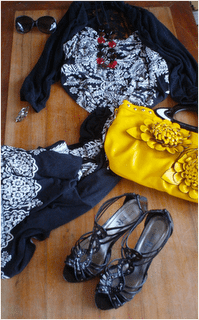 The Fruits of the Challenge
The outfit budget must cover all apparel, accessories and footwear items and feature a minimum of 5 specialty retailers..
The challenge must be completed in 1 hour.
My shopping venue was Westfield Plenty Valley, so on Saturday afternoon I went and took up the challenge, surely a professional shopper like me would have no troubles?
To start with I was given a map of the centre so I knew which shops were where, and then the clock started. I spent the first 25 minutes on a reconnaissance mission as this wasn't a shopping centre I knew the layout and stores well, plus I had to establish the options available that met the criteria of the challenge. Each shop I entered I thought about the list of themes and what might work for me, some stores had lots of nudes and pastels, others had some military style jackets, others there was a distinct nautical vibe and everywhere there were dresses, both long and short. So I set about my mission of finding an outfit.
Quickly I walked into and scanned each store for its stock, as you're aware, I'm no waif, part of this mission was to find an outfit specifically for me and going to have to photograph myself in it and publish it here (and I can tell you I don't love having my photo taken) so it had to work. Looking around I found some options and my outfit plan started to come together.
With the clock ticking it was time to start trying on. In Katies I found a few maxi dresses and headed to the change room, one was perfect, what a find in the right colours and style for me. One worked well, the tag said $49.95, but today was 30% off for privilege card members, which gave me a $14.98 discount.
Then onto the next store, no time to waste, I'd seen some great little shrug cardigans in Femme Connection and headed there to pick one up for $19.99.
Moving on, I needed some jewellery so headed into Diva where there were so many options, but settled on a great cocktail ring and a red beaded necklace for a total of $28.
Time for shoes, Famous Footwear had some great bargains and I found some gladiator sandals for only $20 on sale. A fun addition to my shoe wardrobe.
Maxi-dresses say poolside glamour and summer to me, so a new pair of sunglasses was in order, 10 minutes to go Temt came to the rescue with some cool frames (that meet Australian standards, which are strict) for just $12.95!
Finally, all I needed was a bag to finish off the outfit, and with around 5 minutes left in my hour, I saw some fun bags in Jaidah and headed in and chose a bright yellow bag (one of the hot colours we'll see lots more of) with a big flower detail, great for summer for $45.
Just in the nick of time I'd got my outfit from 6 shops, and for well under my $200 limit!
It was a fun challenge, and if this is something that sounds like your kind of job, why not apply for the role as the Westfield Insider.
The Westfield Insider, Australia's Savviest Shopper

Excellent remuneration ($100,000 salary plus benefits)
12 month fixed-term contract
A chance to be our national shopping and fashion expert
Love sharing fashion advice? Are you creative? Approachable? Driven? Apply now to win the opportunity to lead our online community. Uncover all the greatest on-trend, on-budget buys and share them on Facebook. Blog about fashion news on our website. Attend the coolest industry events. Act as an ambassador at our charity functions. Use your background in Marketing, Advertising, Communications, PR, Fashion, Journalism or Retail to tell everyone about shopping, fashion and everything . Become the Westfield Insider.
Apply online by clicking on the "Shop & Tell" link at westfield.com.au for your chance to secure a 12 month fixed-term contract as the Westfield Insider – a rare and exciting opportunity for an expert shopper who loves great value. As the Westfield Insider you will research and stay up to date with "on trend, on budget" fashion, sales, promotions, retail news and events in order to share all you know with your fellow shoppers, work colleagues, family and friends.
In this role you would…
Create and upload online content aimed at helping Australian shoppers to get more from their shopping experience.
Share national and local information via the Westfield Insider blog, Facebook page, video, eDM and other agreed channels.
Inform on style trends, product and retail news through research both online and in-centre, with a focus on fashion, but also extending to other categories such as food, homewares and beauty.
Be a presenter and contributor for online video content.
Expand Westfield's online community via our website, Facebook and other social media channels.
Encourage online participation from fellow shoppers, responding to requests and providing the inside word on the best buys.
Attend and participate in key national and local events, including community activities, and document your experiences online.
Act as a shopping expert spokesperson for publicity purposes.
Professional Skills & Attributes
To be successful in securing this amazing role you will:
Have a genuine love of shopping
Have a passion for seeking great value.
Have had previous experience in a relevant field or role (fashion, retail, media, PR, styling or journalism).
Be IT literate and preferably active in Social Media eg. Facebook, blogging, Twitter, etc.
Possess excellent communication and presentation skills.
Have strong, engaging written skills.
Demonstrate a flair for style and have the ability to translate this to others.
Display exceptional attention to detail.
Be motivated, self confident, positive and professional.
Possess a desire to be the person people go to for shopping advice and knowledge.
Have full Australian work rights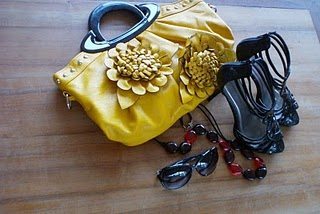 Media skills are desirable, but not essential.
This role will include regular interstate travel and the opportunity to attend a number of exclusive industry events. Some weekend work and flexibility will be required.
The Marketing Team
Marketing is about creating the ultimate shopping experience for our customers. This involves implementing a consistent and innovative strategy for our brand both nationally and locally at each centre to drive profitable retailer sales.
Our BusinessThe Westfield Group is the world's largest listed retail property group by equity market capitalisation. The Group has interests in and operates a global portfolio of 119 high-quality regional shopping centres.
Is this the job you have been waiting for? Apply online now by clicking on the "Shop & Tell" link at http://www.westfield.com.a/u – you will be required to include a video / photo as well as your CV or a short bio with your application. If selected you will then have the opportunity to be voted on by the public to win the job of the Westfield Insider.
http://www.facebook.com/TheWestfieldInsider
Please note that applications close at 5pm AEDST on Friday 1 October 2010.
What I bought as the Westfield Insider:
Katies VB Hankerchief Maxi dress $49.95 (less discount) $34.97
Jaidah CKM flower Bag $45
Famous Footwear Black Snake Platform $20
Diva Leaf Cocktail Ring $12.99
Red Pebble necklace $14.99
Femme Connection – Cardigan $19.99
TEMT Sunglasses $12.95
Total Spent: $160.89