.
.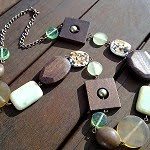 One of my lovely clients has started making jewellery, and I wanted to introduce you to her online store.
In Jeanie's own words:
Inspired Wish is a one women handcraft adventure.
Inspired Wish came about from friends and store assistants asking if I sell the jewellery that I make. When I stopped to think about that I realised I am very keen to learn all I can about jewellery making.




Her jewellery is available for sale online at madeit.com.au/InspiredWish  or you can read about her jewellery making journey on facebook.com/InspiredWishJewellery


I'm sure that she could custom make pieces for you in colours and styles of your choice – go on , go have a look!