Australian label Verily sent me this dress to review, and to give one away to one of my lovely readers (rrp$145).
Here it is on a model who is a different shape from me.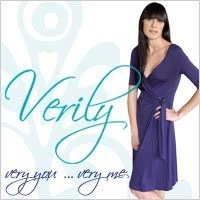 Here is is on my H shape body.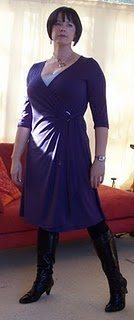 What I love about it:
It arrived in a small post satchel, and it didn't need any ironing when I opened it after having been scrunched up and handled by Australia post (and they're not gentle on the post). I've worn it all day and it has no creases.
It doesn't have any actual waist detail, except for the ring tie, which makes it flattering for my H shape, but it will also flatter an X, 8, A and V shape.
The longer sleeves (and this dress comes in capped, mid and long sleeve lengths), cover upper arms.
The fabric is a great heavy weight viscose/elastane jersey, so it hangs really well and has a nice feel, not flimsy.
It's a good length on me, it hits just at my knees, not too long.
The sizing is true, Verily has an excellent sizing chart to work out your size. I tend to be a bit between sizes because of my large bust, so I chose the size that fit the rest of my body ( my bust size really wants a size larger), and it fits me well.
I can see that this is going to be a great staple in my wardrobe for years to come.
So, now it's your chance to win one – it comes in an Australian size 8 – 16 (which is around a US size 4 – 12 and a UK 10 – 18) – check out the sizing chart for measurements. While you're there, why not have a look at some of the other designs. Colour choice is grape (as pictured on me) and black.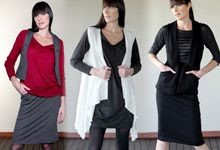 For your chance to win – leave a comment with why you deserve to win. Comment gets you 1 entry, tweet this competition for an extra chance to win (let me know in the comments that you've tweeted).
Competition closes Friday 4 June. Winner will be published Saturday 5 June 2010.
And a little about Verily
Verily is a new Australian fashion label aimed at women over 30, who posses this new thinking. Launched last year, Verily is very much a return to cottage industry fashion, using local manufacturers and Australian milled fabrics.
For designer, Leonie Macleod, the real reward comes in seeing women wearing her designs. "If I can make a dress that a woman can put on, stand back, and say "I feel great in this," then I have succeeded." Leonie also explains that "the name Verily comes from the expression "very Leonie," which I often hear when I design something new." Leonie was instantly drawn to the name as it means 'truly, honestly, really,' which are all qualities that Leonie strives to bring to her business. "My aim is to create clothing made with integrity, that real women love," she has said