On the current issue of Australian Marie Claire magazine, Jennifer Hawkins (ex-Miss Universe, genetically blessed) appears naked without any photoshopping, in an attempt to be a positive role model for women (hmmm, still very attractive and will sell heaps of magazines).
Radio host Bianca Dye has appeared naked, without photoshopping her pot belly out of the shot in Madison magazine (hmm, not on the cover, won't sell if they put her on the cover, but the 'she looks kind of like me factor' will sell heaps of magazines when they look inside it).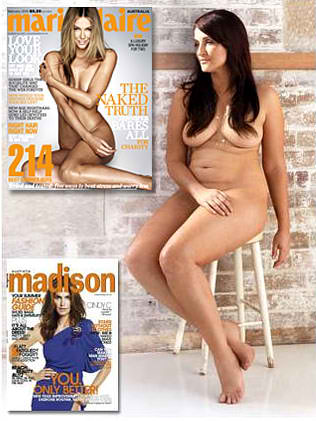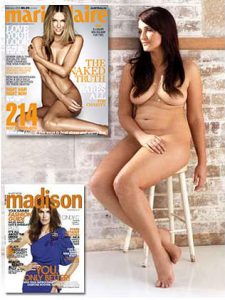 Bianca has come out saying that Jennifer is not a role model as she's naturally thin, and is a model, so very beautiful naturally. (read the full article)
Does Jennifer's natural beauty stop her from being a role model? Does Bianca's natural pot belly make her a better role model?
And why do all these articles always use the term 'real women' like women who are naturally slim are not real?
Why do women put so much pressure on themselves to look a certain way? No cellulite, ultra slim, no wrinkles etc.? Who is 'making' women have such high standards, women or men?
A recent survey of 100 men revealed that they preferred to look at women's faces anyway – read the survey results, and tsee the results – apparently men think women should be kinder to themselves.
Body image and what is 'real' or 'normal' has got to be one of the most emotive issues around. What are your thoughts?