One of my lovely readers Karen sent me this email:
I do think we can and should each find our own personal style and be comfortable with it. I do not understand the large size that handbags have become. If I carried a currently stylish handbag, it would be 90% empty, and I'm not sure I get the point. Seriously, some of my carry-on luggage pieces are smaller than some handbags.
I like the smaller "organizer" type handbags with shoulder strap, in a nice leather. Zip it open and there is a place for everything. I don't carry anything for my hair, and just one lipstick. Credit cards, cash, small outer pocket for cell phone. Car key and sunglasses fit inside.
By today's standards, my handbag is more of a wallet!
How do I choose a handbag size to not overwhelm my body or to look miniature?
I suppose, regardless of whether I appear to be out of step, I will carry what I feel fits me.
How to choose the handbag size
So to answer her question we need to ponder upon a few questions.
What is your body scale?
To get an idea of your body scale, measure around your wrist (in inches) to see where you fit.
Small: 5.5″ or less
Medium : 5.5″ to 6.5″
Large: 6.5″ or more
Now this is just a general guide – it's all about height to weight as well, so if very tall but very slim you may look smaller scale.
The Optical Illusion of Scale
Now, look at this illustration: which centre circle is bigger?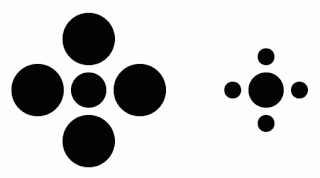 The one on the right – right?
No, they are the same size, it's just an optical illusion. How can we apply this to handbag choice?
If you want to make yourself look smaller, carry a larger handbag, if you want to make yourself look larger, carry a smaller scale handbag, otherwise go with whatever is the scale handbag that suits your body scale as determined earlier.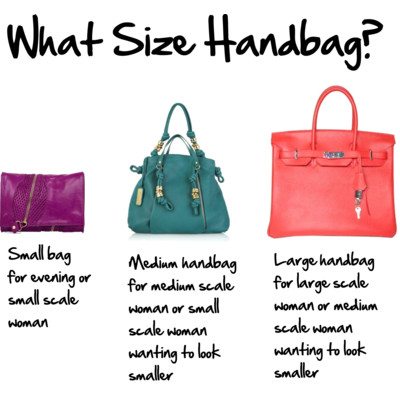 So the trend for large handbags is because many women want to make themselves look more petite.
The Effect of Personality
You always have to throw personality into the equation, it trumps every 'rule' in the book. So if Karen likes a smaller scale handbag, no matter what her scale, that is what she'll choose to carry. Or if my very petite friend loves an enormous handbag, even though it will dwarf her, she will choose to carry it.
What is important to remember with a handbag, no matter what size, is to choose one that expresses your personality and is a great piece. You wear/carry it every day, so make sure it's good quality and adds to your overall look, rather than carrying something old and beaten up that detracts from your image.
What size handbag do you prefer?