I've had a couple of commenters who have wanted to know what to do with their large bust, given their body proportions.
Interestingly, even if you have a balanced waist, a large bust can give you the appearance of a short waist, as by the time the clothes go out over your bust and come back in at your waist it can visually shorten the area.
This is why having great undergarments make such a difference – keeping your bust up high will give you the illusion of a longer waist.
If you have a large bust and and shorter waist, belting at the waist is not a great option, it enlarges your bust and further defines the length of your torso.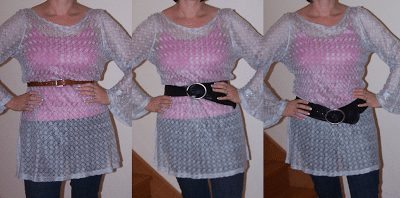 Here I am – you can see with the thin belt (left) this is sitting on my natural waist – and it appears to be almost under my bust – and makes my upper body very boxy and wide.
In the middle picture I've got a wider belt on which is marginally better but still makes my body look short.
In the picture on the right I'm wearing a belt on my hips which elongates my torso and makes me look overall slimmer – so if I really want to belt, that is the way for me to go.